Forgetting my dumps and blues - I've actually had a bit of time to scrap!!! I didn't get as much done on Monday as I'd planned, but around kids, dinnertime and cleaning I got some swaps completed for the
Scrapbooking top 50 Australia
girls and did a mini layout for the opening night challenge for our cyber crop :)
So for
swaps
, I made some buttons to match some beautiful ribbons... Yes I MADE the buttons. It's simply a case of punching the desired shape out of the feature (top) cardstock, and then punching 4-5 more of the same shape in a cardstock to match, gluing the said layers (leaving the feature one for the top of course) and once all joined and sandwiched together using my eyelet cutting tool to create the holes in the centre of the buttons :) It's as simple as that!!! I've used some matte mod podge to seal some of the buttons, and others have been left 'naked' so the recipient can stamp over the top if they so desire :)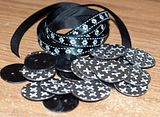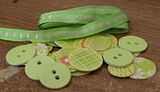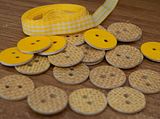 And I've made some little frog princes styled from Domeniks little toy frog for the green and blue swap....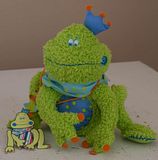 it's the little green one in the bottom left hand corner...

and some ladybugs for a more recent swap there... The theme for this swap was "spots and stripes" I'm about to start making some stripey rockets this afternoon for this one too...

So lots of crafty goodness happening to try and keep me sane during the school holidays...
I have some challenges to work on now for their
monthly challenges
and the
cyber crop
- oh for the opening challenge here is my LO - The theme for the CC is "Celebrating Independence" For the mini challenge we concentrated on 'ones'
Our creations MUST include only ONE of each of the following list of items. You were allowed to add other materials to the creation besides the list provided, but these must be visible...
- ONE piece cardstock
- ONE patterned paper (and no, you couldn't use both sides of a double-sided sheet...LOL)
- ONE word title or sentiment
- ONE length ribbon, lace or fabric
- ONE button
- ONE pin
Mine is a 8 x 8 that I'm putting together for Domenik's first birthday - I wish I was with it enough to do the same for the older kids... I guess hindsight is a great thing though ;)
Sooo that's it for now :) I have a baby to rescue from his cot, 4 brats to ensure are fed then am taking the older 3 to the library for a school holiday program...